Gibbs' Reflective Cycle
In 1988, Graham Gibbs had hypothesized the renowned cyclical model of reflection from learning. It is mainly based on the experience from one incident whether it is successfully performed or not. Here learning is occurred based on repeated experiences. Gibbs reflective cycle is mostly based on six stages which are the description of an experimental incident, experiences thoughts and feelings related to the experience, evaluation of the result of experiment whether it is successful or not, analysis of the result to find out the reason of the result, conclusion about the result of the entire process, and finding out the action plan for controlling the result of the same situation or experiment in future. Gibbs reflective cycle is a highly crucial part for the nursing students and registered clinical specialists.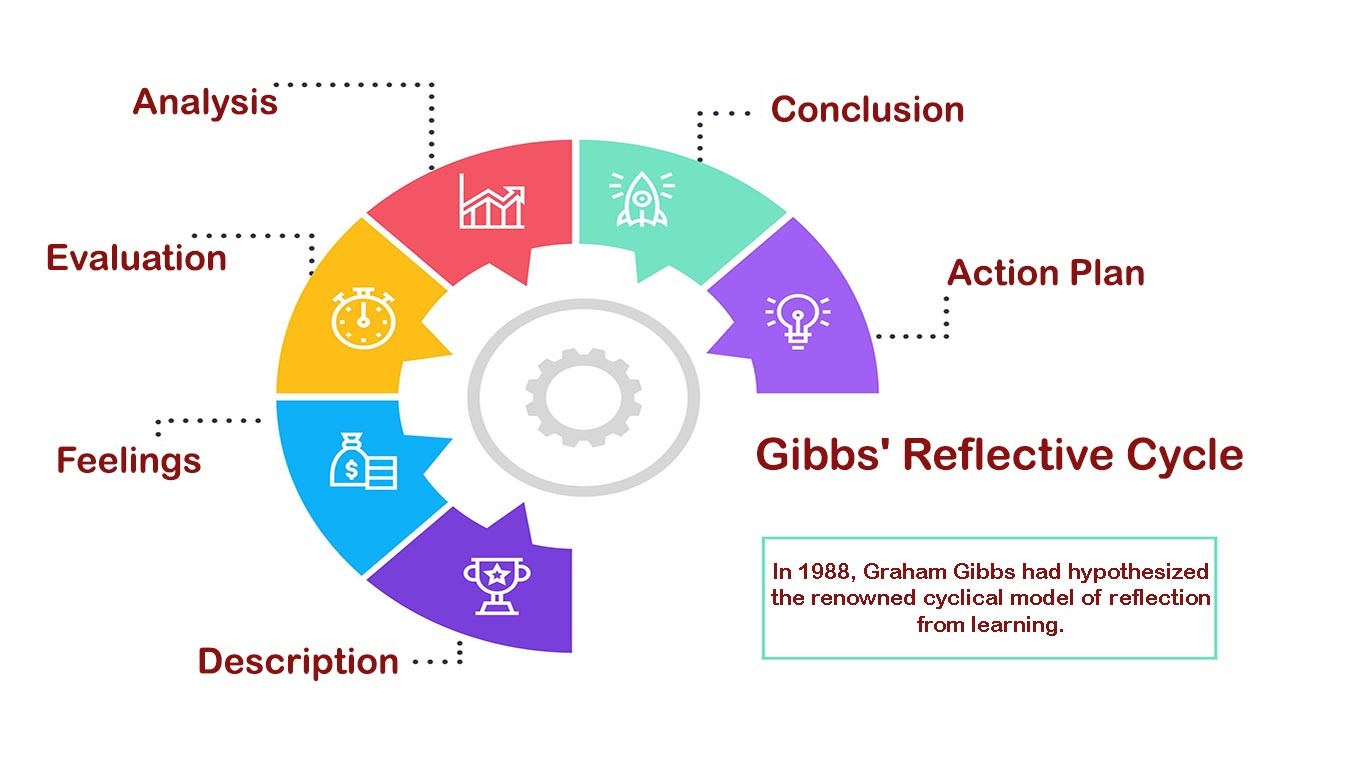 Gibbs reflective cycle example:
In nurses' reflection diary, there is the continuing professional development related aspects. In this scenario, there is the first stage of description where nurses write down the brief facts of the situation, occurrence of incidents, what they did in which situations. For Gibbs reflective cycle example, it is observed that for a mentally ill patient there is the importance of writing all the facts, what are patients history about the entire situation, and writing it in the nurses' blue book. In the second phase of Gibbs reflective model, there is a description of the patients feeling in a certain situation, how she or he is affected by patients behaviour. In the third stage, there is the evaluation of patients good and bad situation, how issues are reflecting in this situation and how it is affective for patients welfare. In the fourth stage, there is the discussion of reflection of incidents on this patients mind and nurses are required to analyse it properly. In the Fifth stage, there is the discussion on the conclusion of patients development along with time and how it is catalyzed or delayed. In the 6th stage, nursing professionals are required to analyse that how every stage enhances their efficiency in the patients' welfare.
Gibbs reflective cycle references:
In Gibbs reflective cycle, Harvard reference is mostly required. Here students feel huge stress on finding a properly matched situation according to the patients' condition. In Gibbs reflective cycle reference students are highly recommended to make an intensive research on the entire scenario in different data bases like Pubmed, Scopus, google scholar and others. For Gibbs reflective cycle example there is the importance of analyzing every step of the patients' condition or the entire situation. Here students need to analyse every detail, patients feelings, effects of different incidents, as well as medical interventions along with the welfare of the patient.
Gibbs reflective cycle model provides complete guidance to nurses for intensive study and supervision of the patient. With help of Gibbs reflective model, nurses will be able to provide a great monitoring system to the patient.
Here nursing and medical students are required to gather lots of knowledge about situation analysis and enhancing their decision-making power. If you are feeling the same stress about your assignment containing Gibbs reflective cycle model then you can easily contact with AssignmentClassmates.com. Here you will get detail guidance about the topic, information collection, writing pattern as well as other kinds of online assignment help services. Their customer care services, referencing process, as well as online tutoring are very amazing.
Gibbs reflective cycle in assignments:
Due to its importance in the Gibbs reflective cycle in most of the nursing assignment as well as medical clinical assignments this reflective cycle is highly utilized. In most of the cases, it becomes a huge pressure for students to input all the conditions of Gibbs reflective cycle within assignments. Among many other online assignment help services, Assignment Classmates has the strength of medical and nursing-related assignment writers. Here students can provide the situation only and essay writing experts will provide their expertise and skills for completion of Gibbs reflective cycle. In this scenario, there is the importance of references and other instructions of the assignment. Gibbs reflective cycle references are separate from other assignments or reports because here students are required to find out references with the same scenario.
So! If you are suffering from stresses of writing an assignment with Gibbs reflective model cycle, it is the right time to get in touch of Assignment Classmates.